First Time Condo Buyer
On November 15th, 2017 there were 192 active condos for sale in Downtown Ottawa on the Multiple Listings Services, (MLS®). Ranging in list price of $194,900 - $2,650,000.
Are you on the market buy your first Condo in Ottawa?
Would you like to receive "Hot New Condo Listings" as they enter the market?
Simply click the Dream Condo Finder picture below and you will be set up for free with no obligations!
Condos for sale in Ottawa.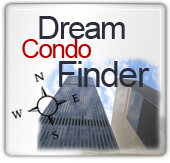 The Ottawa Condo Market
The Ottawa condo market offers exciting opportunities to become a first time condo buyer and invest in the equity building real estate market.
Ottawa is a promising yet low risk, stable market in which to invest in real estate. As well, Ottawa has seen a steady rise in the quality of services, infrastructure, real estate developments and general potential for you to enjoy an optimal lifestyle.
In fact, Ottawa was voted as the #1 city in Canada for quality of life and yet the Ottawa condo market offers affordable options for the first time condo buyer. These favorable conditions have contributed to thriving growth in the condo market and a rapid increase in condo developments in the best areas of Ottawa and the surrounding National Capital Region.
So, if this is your time to become a condo owner we will guide you through this exciting process at every step of your journey!
Highlights of Ottawa Condo Living and Ownership
Advantages available to first time Ottawa condo buyers through multiple programs
Modern, sophisticated and convenient living in the most desirable areas of Ottawa
Choose between condo apartments or condo town-houses depending on your needs
The ideal choice for first time Ottawa condo buyers
Wide array of choices available for services, styles, locations, and amenities
The Advantages of Working with a Qualified Condo Realtor
Your best ally during entire process of purchasing your Ottawa condo
Thorough knowledge of all procedures involved in buying your first Ottawa condo
as well as answers and expert advice for your most pressing questions
Experience and finesse in negotiations, protecting you throughout the condo buying process, and having your best interests at heart
Detailed market advice with the knowledge to guide you through one of the most important decisions of your life
Information and referrals for lenders, lawyers, home Inspectors, and all the parties required in making a successful first time condo purchase
A comprehensive kit outlining the processes, players and necessary requirements of making a successful first time condo purchase, available to you complimentary as part of Bytown Homes services for first time condo buyers.
All rights reserved - 2012 ©