324 Laurier Avenue, Ottawa
On September 14th, 2017 there were 5 Active Condos for sale at 324 Laurier Avenue on the Multiple Listings Services, (MLS®). Priced between $259,900 - $495,500.
Are you on the market for a Condo at 324 Laurier Avenue?
Would you like to receive "Hot New Listings" as they enter the market?
Simply click on the "324 Laurier Avenue" photo below and you will be set up for FREE, with no obligation!
The Mondrian - 324 Laurier Avenue, Ottawa.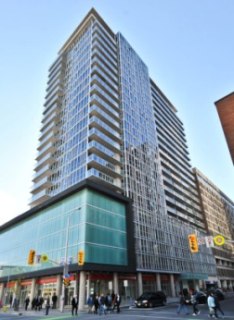 The Mondrian at 324 Laurier Avenue in Ottawa.
Welcome to Art in Sky. The Mondrian, a striking 24 storey high rise condominium was built in 2009 by Urban Capital and has changed the Ottawa business district's sky line. Inspired by the revolutionary modern art of Piet Mondrian, a renowned contemporary of Pablo Picasso, this unique building is structurally unique with floor to ceiling windows, two level pent house suites, exposed concrete ceilings and pillars, and clean lines that appeal to the hip and trend conscious modern professional.
Boutique hotel style lobby with clean lines, impressive lighting and concierge service lead into 3 high speed quiet elevators and the convenience of Shoppers Drug Mart on the street level adds to the urban advantage of living at this location. The modern and edgy lifestyle you'd enjoy at this condominium high rise is just steps away from major government buildings, the business sector, retail shopping centers such as L'Esplanade Laurier, and the great shopping, dining and entertainment opportunities offered on Bank Street.
The fitness room complements your active lifestyle and the impressive party room boasts a large bar, a pool table, lounging areas, and access to the spectacular outdoor rooftop terrace. One of the coolest features of this location is the resort style rooftop terrace with a plunge pool, private cabanas, gas barbecue, dining area and remarkable views of the city.
This location is the finest new address for the hip, the urban, the fashionable and the trendy professionals of Ottawa.

Map of 324 Laurier Avenue West, Ottawa, Ontario, K1P 0A4

324 Laurier Avenue, Condominium Corporation # 829.
Condo fee's for 324 Laurier Ave include: Heat, Water, Management, Caretaker, Recreation Facilities & Building Insurance.

Condo Suite heating source: Natural Gas, Forced Air and Central Air Conditioning.

Facilities include: Lobby, party room with kitchenette, washroom, fitness centre, outdoor plunge pool, roof top terrace and bbq's.

Property Management for 324 Laurier is: Capital Concierge 613-722-1232
All rights reserved - 2012 ©