360 McLeod Street, Ottawa
On September 14th, 2017 there were 2 Active Condos for sale at 360 McLeod Street on the Multiple Listings Services, (MLS®). Priced between $269,000 - $339,419.
Are you on the market for a Condo at 360 McLeod Street?
Would you like to receive "Hot New Listings" as they enter the market?
Simply click on the "360 McLeod Street" photo below and you will be set up for FREE, with no obligation!
360 McLeod Street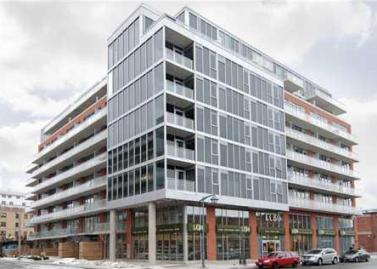 Central condos - 360 McLeod Street, Ottawa.
Newly built in 2013, nine storeys, Central Phase Two creates the ideal loft living. Certified LEED Gold, Urban Capital has designed and built Central Phase Two in an environmentally and energy conscious fashion, while maintaining a high end urban feel.
Central Phase Two is where chic meets loft, offering sleek and sophisticated designed units, while keeping the loft feeling through exposed pillars, concrete ceilings and open duct work. Floor to ceiling windows offers plenty of natural light into the units. Units are styled with sleek finishes creating a sharp look, as well as having large balconies perfect for relaxing at the end of the day.
Central Phase Two offers much more than a well designed building and well fashioned units. A secure front entrance system is in place and a concierge to greet you when you walk through the door gives a sense of security and peace to all residences. Central Phase Two provides residences with a theater and a large party room, fitted with a flat screen TV, seating areas, a pool table and a kitchenette making it a great place to host large parties or get- togethers and to socialize with neighbours. Right off of the party room is an outside courtyard with a barbeque and grassy area which is perfect to enjoy time out in the sun. A fitness centre located on the second floor equipped with cardio machines and weights is ideal for looking to live a healthy fit lifestyle without leaving the building.
Central Phase Two offers residences access to all the nearby amenities and businesses that are only steps away, including a 4500sq foot LCBO located directly beneath the building. Everything you need is less than minutes away, from grocery stores, shopping, entertainment, dining, museums and the Ottawa Central Bus Station this lively neighbourhood has it all.
Come experience loft living at its finest in one of Ottawa's most loved neighbourhoods.

Map of 360 McLeod Street, Ottawa, Ontario, K2P 1A9

360 McLeod Street, Condominium Corporation # 943.
Condo fee's for 360 McLeod Street include: Heat, Water, Management, Caretaker, Recreation facilities & Building Insurance.

Condo Suite heating source: Natural Gas, Forced Air and Central Air Conditioning.

Facilities include: Concierge, Party Room, Theatre Room, Fitness Room, Courtyard.

Property Management for 360 McLeod Street is: Taggart 613-234-7000.
All rights reserved - 2012 ©