401 Golden Avenue, Ottawa
On September 14th, 2017 there was 1 Active Condo for sale at 401 Golden Avenue on the Multiple Listings Services, (MLS®). Priced at $609,900.
Are you on the market for a Condo at 401 Golden Avenue?
Would you like to receive "Hot New Listings" as they enter the market?
Simply click on "401 Golden Avenue" photo below and you will be set up for FREE, with no obligation!
Westboro Station Phase 1 - 401 Golden Avenue, Ottawa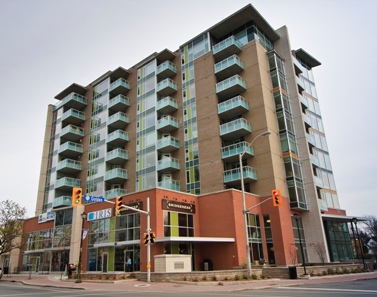 401 Golden Avenue, Ottawa.
Westboro Station Phase 1
Welcome to the newest addition to the condos in Westboro family! Built just in 2009, 401 Golden Avenue is the first phase of the Westboro Station three-phased development project. Westboro Station was designed by the renowned Barry J. Hobin and Associates Architects, developed by Bourke Family Developments and constructed by The Morley Hoppner Group.
Phase II and III remain to be built. The sale of Phase II is currently underway with the opening sales launch of Phase III to follow.
401 Golden Avenue is located in the neighbourhood of McKellar Park but stands at the gateway of Westboro`s thriving main strip. Its modern and chic design perfectly encapsulates the fresh style of Westboro`s new look. The building stands at 10 storeys and contains 74 residential units. The ground floor offers a Bridgehead coffee shop.
The interior of 401 Golden Avenue is as modern as its exterior. The lobby is striking with its 18 foot ceilings. The individual units combine all the modern features a buyer could want: open-concept floor plans, expansive windows, stainless steel appliances, hardwood flooring and granite countertops. The units also feature standard high-efficient natural gas dryers and gas stoves, with optional gas fireplaces and gas hook-ups for balconies.
Find out how to live at 401 Golden avenue, by Bourke Family Developments. Click on the photo for a complete list of listings for sale or for rent.

Map of 401 Golden Avenue, Ottawa, Ontario, K2A 1H4.

401 Golden avenue, Condominium Corporation # 830.
Condo fee's for 401 Golden avenue include: Water, Management, Caretaker & Building Insurance.

Condo Suite heating source: Natural Gas, Forced Air and Central Air Conditioning.

Facilities include: All that Westboro has to offer.

Property Management for 401 Golden is: Axia Management Group 613-738-9700
All Rights Reserved-2012 ©